Yesterday I attended a charity luncheon, featuring Jennifer Weiner. You know, the one who wrote "Good in Bed" and "In Her Shoes". Cameron Diaz and Shirley McClain starred in the motion picture film inspired from Weiner's book.
I don't remember ever attending a luncheon with such a hilarious, gut wrenching funny speaker.
Jennifer, who is a bit on the heavy side and not particularly "lovely", was telling us all about when she met, for the first time, Cameron Diaz. Cameron was wearing a turquoise dress holding a pink parasol umbrella, stepping out of her trailer on the set – looking drop dead gorgeous. Jennifer stated that if she were wearing that, she'd look like an out-of-place dacaqurie. Cameron walks up to Jennifer and says, "Oh … you're the one who wrote the book, so nice to meet you" and throws her arms around Jennifer and gives her a big hug. But what's going on in Jennifer's mind, she tells us, that she just read in Teen Hollywood magazine the 10 people who smelled the worst, and Cameron's name was on the list. So she starts SNIFFING/SNORTING around Cameron's neck. The room broke out in a roar of laughter.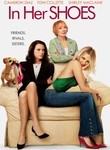 Another funny story Jennifer told the audience was when she and her siblings wanted to fly from Philadelphia to Miami so they would "witness first hand" the historic act of when Jennifer's Mom decides to tell Nanna that she's a lesbian. Jennifer referred to the incident as "spillage in the village" as they entered Century Village Retirement Community, pulled up to Nanna's driveway to drop the bomb!
Though the luncheon was a lot of fun, the shopping was even better! An entire area was devoted to boutiques and unique gifts. A percentage of each sale went to charity, plus upon entering we were each asked to bring 1 or 2 pairs of NEW shoes for women who have been abused and are temporarily living in shelters. I found an amazing deal on
Women's leather casual oxford sneakers, made from leather. The normal price is $69.99 on sale for just $29.99 plus FREE SHIPPING. I ordered 2 pairs – I figured since I could afford it, let me make a difference in the lives of women who are undergoing hardship – it just makes me feel good knowing that I can help.


del.icio.us
|
digg it!
|

reddit!
|
Google!