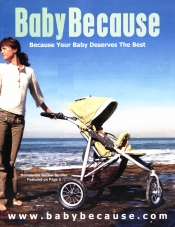 Even though I've had my share of kids already, I've got friends my age still having children. Crazy. But doing my part as the good friend, and entrepaneur that I am, I've directed them to one of my merchants here - Baby Because. They've got everything for babies and some really funky new jogging strollers and such. Of course they've got the standared stuff like cloth diapers and the usual baby gear and supplies, but there's way more than that if you get digging into their catalog. BabyBecause is really an online baby boutique with the newest baby things, baby slings and carriers, etc.
Or maybe you've got to shop for a baby gift and you want to get something a bit more unusual, maybe consider a cozy Moses basket or a comfy baby sling. Love those. Double jogging strollers make great baby gifts for twins, or a basket full of natural baby care products is kind of something different from the traditional clothing or blanket gift. Whatever you need for your baby, they've got it.
Best of all you get FREE SHIPPING on all orders over $125.
You can order their FREE Catalog here

del.icio.us
|
digg it!
|

reddit!
|
Google!