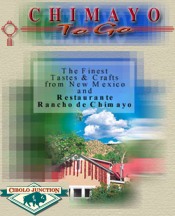 When you live in South Florida, the latin/spanish cooking you get inundated with is Cuban and South American. Fine. It's pretty good, I'll give it that. But I personally have a love for Mexican - and real authentic Mexican. Chain Mexican restaurants are useless. So I couldn't have been happier when we discovered this company Chimayo To Go.
They are from somewhere called Ojo Sarco, New Mexico - population 400 - so they've GOT to know what they are doing. And from looking through their catalog, they've got everything you'd need to prepare any authentic Mexican recipe and what look to be mouthwatering Southwestern snacks. Yum. Small and family owned, they've got chile powder, all kinds of dried chilies, and a slew of various hot sauces from timid to fire burning.
And if you're not a tv show-worthy chef, like myself, there's some recipes too, and their catalog offers some hard core mexican cookbooks to order as well.
And there's 10% off all orders too. So bring on the Habanero chile powder - I think I can take it :)
You can order their FREE Catalog here

del.icio.us
|
digg it!
|

reddit!
|
Google!