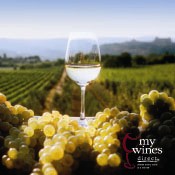 You're going to a party or dinner with friends and typically you bring a bottle of wine, right? Standard modern day social procedure. But when it comes to actually giving someone a present, you don't normally think of wine. At least I don't. But why not? 98% of the people I know love wine and serve it regularly.
So....this catalog gets dropped on my desk. New customer. And I start leafing through it. Interesting. Not a wine club per say, where you order someone a subscription and then they get a couple bottles every month. All of these wine gifts are one time deliveries of 6 to 12 bottles. And interesting groupings. A wine gift basket for the grill. Many sets from Califorinia obviously. And sets combining wines of the world and American wines. Spain, Australia, France, etc. Very cool. And you can make your own custom wine gift baskets or take their expert suggestions. I'm sticking with their expertise thank you.
And there's FREE shipping on all orders. So no $$ surprises.
You can order their FREE Catalog here

del.icio.us
|
digg it!
|

reddit!
|
Google!