We have a new client, Quick Medical Supply, and I was fascinated by what is now available online for medical practitioners, physical therapists and anyone that wants to have a well equipped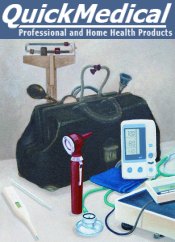 home medical first aid kit. With three kids, I'm particularly interested in the last item! Their home medical supply section has everything anything anyone would want-- from thermometers to bandages to a home defibrillator. I guess if a member of the family has a heart condition, it would be a good idea to have a defibrillator on hand (just be sure to follow instructions!). Did you know there's such a thing as a talking thermometer? That's what I really need—something else to talk back to me! There are even medicine dispensers with an audible alert.
But what I really NEED is fitness equipment, or physical therapy aids—since I always seem to bang up my knee. It's not that I'm clumsy; it's just that I seem to have weak knees. They have training stairs, parallel bars and workout mats too. Check out their many types of pedometers and scales to help therapists and patients track progress across and between therapy sessions.
Quick Medical supply has a huge selection, offering durable medical equipment, consumable medical supplies, medical fixtures and home health care supplies. They alos advertise that they have "knowledgeable customer service specialists for help in selecting the right supplies and equipment for your professional or personal needs," which I'm sure could come in quite handy.

del.icio.us
|
digg it!
|

reddit!
|
Google!