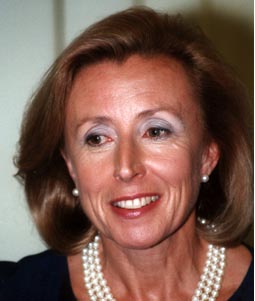 The wife of Senator Joe Lieberman (the Senator that was chosen by Al Gore to be his Vice President/ running mate during the 2000 presidential election), Hadassah Lieberman, was the guest speaker at a fabulous luncheon that I just attended for a charity.
Her words transcended across every religion. Her speech empowered every woman to take a stand. Hadassah emphasized the power of faith and commitment. She explained that even through the difficulties and the non-stop pace of being on a whirlwind campaign trail, she and her "Joey" always STOPPED and observed their Sabbath. They are Jewish, and for most Jews, the Sabbath begins at sundown on every Friday, and ends at sundown on Saturday. During this time period, observant Jews are not suppose to ride in cars, do any form of work, and are to use this time wisely to educate themselves, spend time with the family, and pray to God.
Hadassah told first hand accounts how the secret service had to accompany them through every small town as they walked to synagogues on Friday nights and how thousands of people praised their commitment to faith. She told how Al and Tipper Gore had them to their home a few hours before the Sabbath started, and how they enjoyed the dinner with Al and Tipper (even though they had different religions).

Hadassah told a wonderful story about the morning that "Joey" learned he was the chosen one to be Al's running mate. That night, Joe and Hadassah were invited to dinner with the Gore's. All of a sudden, Hadassah takes the sterling silver fork and gently taps on the wine glass to get everyone's attention for a toast. She jokingly told us how horrified Joe's face was – not knowing what she would say. Hadassah said, "I don't know what got into me, but I just felt in my heart that I wanted to make a toast. So I thanked Al for choosing my husband, and how proud she was, especially because she is the daughter of a holocaust survivor."
Hadassah didn't know WHY she mentioned that her parents were holocaust survivors, but during that split second of incredible pride and happiness … she never forgot her roots, or how her parents suffered.
Later that night, Al Gore told her that she would need to go on national television to introduce her husband as he accepts the formal nomination. Hadassah was petrified. She didn't know what to say, and it was Al Gore, himself, that told Hadassah to make the exact same toast as she had just made at the dinner table. Hence, that is WHY Hadassah Lieberman mentioned on national television that she is the daughter of a holocaust survivor.
What I found incredibly intriguing throughout her lengthy speech was her insight to other's feelings and passions. On several occasions, she mentioned that people from ALL religions found her and Joe to be inspirational and full of optimism because both held true and fast to their religious beliefs. Their religious customs are what kept them GROUNDED, and they did not let a presidential campaign come before their beliefs or customs. Christians, Baptists, Buddhists, Muslims, and many other people from different religions praised their commitment to faith.
Another point that I found fascinating was the story how during the observance of Sabbath, all Blackberry's, cell phones, Palm Pilots, laptops, and other electronic devices were turned off … and time was actually spent CONVERSING with family. Even Tipper Gore told Al "Just shut of your phone, if you're really needed, the secret service will come in and get you!" And the entire room chuckled as it hit home with each woman attending the luncheon.
I thought to myself … we all could benefit from this lesson and force ourselves to interact and really "HEAR" and "LISTEN" to our children and our spouse.

del.icio.us
|
digg it!
|

reddit!
|
Google!