Bountiful Baskets Make the Perfect Gift!
Well, it's 4am and I'm wide awake so I decided to hop online to do some holiday shopping and the most amazing thing happened...I finally discovered how to make holiday shopping easy, yes I did in fact just say "easy." I found everything I wanted, along with saving certificates, plus got it all with FREE shipping right to the recipient's doorstep. So, my advice? Get online and shop 'til you drop. This post is for all of you out there who might still be resisting the online shopping craze. I'm here to tell you don't!
Holiday shopping is stressful and well, let's just admit it, it usually sucks! Crowded malls, screaming children, limited item availability, what to buy? By shopping online I just saved myself all of the hassle. I bought four teacher's presents and more with just the click of my mouse. I feel so revlieved...maybe now I can get some sleep? Check out one of the gifts I bought...isn't great?

As you all know, my company, Catalogs.com, is a hub & gateway to some of the best online shopping around and the special savings certificates don't hurt either. So for me, online gift shopping should have always been the obvious choice, but honestly I've never considered doing it ALL from the comforts of my laptop…until now. By shopping online, not only do you save time and money, but you also have more options, you can personalize gifts and have them custom-wrapped and shipped directly to the recipient with personal notecard included. Can't get any better than that right?
It was fast, fun, easy and I was able to find gifts for everyone under the sun: Teachers, Sports Coaches, Doctors, Tutors, friends, family etc…). As I added to my online shopping cart I knew I could never go back to "traditional" holiday shopping. This was defintely holiday shopping made easy!
Here are some of my faves by category, with FREE shipping, along with links so that you can also save some cash with the special savings certificates. All you have to do is enter the promotional code at checkout. If the savings code does NOT work … pick up the phone and complain…loudly if necessary, to ensure that you get it. As hard as we all work on our end to program everything correctly…sometimes the system on the MERCHANT'S site does not always work. This is the only potential, yet rare, downside to online shopping, it can be frustrating but as a consumer … fight for your rights!!
Below are FREE SHIPPING deals for the holidays ...
1.Fine Fragrances & Skin Care: Frangrancesnet.com, Neal's Yard Remedies natural beauty products, Caswell-Massey the original natural beauty line and Simply Karen Mineral Cosmetics.
2.Academic Tools, Supplies and Gadgets: XUMP.COM for hands-on science fun, Discount School Supply, Academic Superstore sofware, electronics and more.
3.Gourmet Food & Gift Baskets: Entrees to Excellence the one-stop gourmet food shop, Coffee Bean Direct gourmet coffee & tea baskets, Beatrice Bakery home-baked cakes right to the front door, Burgers' Smokehouse, Heartwarming Treasures gourmet gift baskets.
4.Jewelry ,Collectibles & Unique Customized Gifts: Sunshine Jewelry largest selection of discount jewelry online (save 67%), Limoges Jewelry customized one-of-a-kind pieces, Personal Creations, RedLetterGifts.com, Eve's Addiction the hottest trends in sterling silver jewelry, Armstrong Flag Company with a huge collections of state & world flags, Crown Awards custom awards/plaques/trophies and more, SpaWish.com an easy spa finder on this site locates a salon or day spa near the lucky recipient, and My Wines Direct.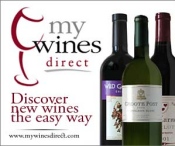 Cheers to a Happy Holiday Season!
Enjoy!
~ Leslie

del.icio.us
|
digg it!
|

reddit!
|
Google!