Catalogs.com Departments

News & Articles

Personalized Christmas Photo Cards – CardsDirect Christmas
Make a big impression with personalized Christmas photo cards
Nothing says "Season's Greetings" like personalized Christmas photo cards. Co-workers, volunteers and business clients will be honored to receive beautiful, heart-felt photo cards for Christmas.


Adorn personalized Christmas photo cards with pictures of your management team, executives, administrative staff or products. Customizing your photo cards is easy.... read more


This catalog is currently out of stock.


Please search through our categories for another catalog.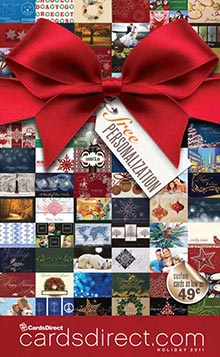 More About Personalized Christmas Photo Cards – CardsDirect Christmas:
Other great CardsDirect - Christmas Catalog departments:
Just upload or email a hi-resolution image to CardsDirect and the cards will be ready for the holidays.


Customers will appreciate receiving personalized Christmas photo cards. These photo cards are not only beautiful pieces of art, but they also represent your company's commitment to good will and they show how much you care for your clients.
Sending out personalized Christmas photo cards is a wonderful way to reach out to the community and build your company's image. When customers receive these high-quality, customized photo cards, they'll be immediately impressed by your ingenuity and style.
If you need helping customizing personalized Christmas photo cards, you can call and speak directly with a friendly customer service team member. Ask to see how you can add digital signatures, custom verses, your company logo or custom artwork for a professional look.
Send out your very best this holiday season with personalized Christmas photo cards. This is a great way to show your clients that you appreciate their business and want to keep them happy.