Desperate Enterprises
Nostalgic tin signs, magnets, decorative license plates and more for your business or home
Visit the Desperate Enterprises catalog to add a touch of nostalgia to your business decor with metal signs and other retro art, with their money saving coupon code.
Special Offer from Desperate Ent:
Free shipping and handling charges within the contiguous United States
Your savings will be applied automatically at checkout on the Desperate Enterprises website.
(offer expires: 03-29-2019) Click to report savings error
What's Inside:
Vintage tin signs - Choose retro wall signs featuring the greats of film and television, including Andy Griffith, Marilyn Monroe, The Three Stooges and John Wayne. Or select advertising-themed reproduction old signs for Coca Cola, a '57 Chevy, Texaco Sky Chief gasoline or dozens of other old time products and services.


Modern metal signs - From NASCAR collectibles to Lucinda Lewis' photography to their newest tin signs featuring American Chopper, choose the subjects and products that coordinate with your business decor and theme.


Decorative light switch plates - Continue your theme with a novelty switch plate cover. Perfect for restrooms, gift shops, dining rooms, or just to add interest and color wherever you have a switch. Manufactured of solid steel, not paper and plastic, they have everything from Betty Boop to Lionel Trains.


Novelty license plates - Added to the inventory by popular demand, these colorful front license plates can be used on the company vehicles, your own car or truck, or to add interest to a grouping of themed signs on a wall. As with their other products, these decorative license plates are made solid metal - never plastic.
Since they began with vintage sign reproduction in 1987, Desperate Enterprises has reproduced over 900 different signs and expanded into related products including refrigerator magnets, decorative switch plates, decorative license plates and retro-style thermometers.
For over 25 years, they have searched through old canneries, cigar factories, bottling plants, drug stores, hardware stores, antique shops, antique shows and flea markets for nostalgic advertising images. Now operating primarily as an online collectibles store for businesses looking for quality nostalgic accents, their focus is on adding new licenses and themes to their inventory. From vintage Coca Cola collectibles or a nostalgic novelty gift item, for retro advertising signs in canvas or tin, check out the collections at Desperate Enterprises.
---
You might also like these Business to Business catalogs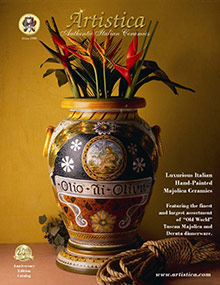 Artistica
Italian pottery from Artistica for a Tuscan-inspired design statement
15% Off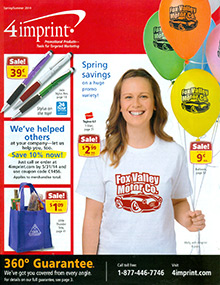 4imprint
Imprinted products and tradeshow promotions for a lasting impression
10% Off