Catalogs.com Departments

News & Articles

Children's Book Characters – Children's Book of the Month®
Children's book characters come to life in your favorite books
Your child's favorite characters come to life in stories that make reading fun. Recognized from popular television shows, movies and the classics, memorable children's book characters entice your child to want to read for hours.


Children's book characters jump into books with stories that kids will love. Here's a reason to turn off the TV and snuggle up to a good book.... read more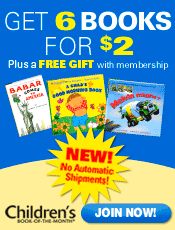 More About Children's Book Characters – Children's Book of the Month® :
Other great Children's Book of the Month departments:
Is your child in the mood for fantasy, adventure or science fiction? Children's book characters come to life in stories that will take your child to a magical kingdom, to a world of make believe, even to outer space.
Classic children's book characters like Curious George, The Cat in the Hat and Mother Goose are sure to entertain your child with outrageous shenanigans, silly jokes and memorable drawings.
Learning is fun with the help of children's book characters that teach your child everything from numbers and ABCs to colors and animals. It's as easy as 1,2, 3.
With a little help from children's book characters, getting your child to read is not as difficult as you think. Any day is a good day to read when you have such a wide selection of books to choose from including picture books, activity books, books with poems and so much more.