Catalogs.com Departments

News & Articles

Feng Shui Guide – One Spirit®
A feng shui guide is the key to bring balance in your life
The ancient Chinese term feng shui literally translates as "wind-water" in English and good feng shui is associated with improving your overall well-being. Books that feature a feng shui guide show you how to bring balance in your life to achieve good health and fortune.


Clear the clutter and create free space in your home. Read a feng shui guide to discover how to awaken your surroundings by eliminating the 'extras' to energize your soul.... read more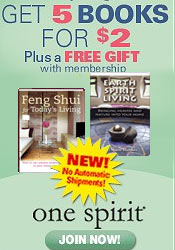 More About Feng Shui Guide – One Spirit® :
Other great One Spirit departments:
Whether you are a novice or an expert, a feng shui guide will show you how to achieve harmony in your home, office and garden. By understanding the principles of feng shui, you can improve your life.
A feng shui guide can help make your home a place to relax and unwind in today's hectic lifestyle. Follow simple steps to create balance in every room of your house.
You don't need expensive figurines or massive fountains to achieve harmony in your home. In a feng shui guide, you'll learn how to work with what you have by to bring prosperity in your life.
A feng shui guide is the perfect gift for those who want to bring balance, harmony and good fortune in their lives. Understand and implement the principles of feng shui and you'll see a difference.