Catalogs.com Departments

News & Articles

Cute Baby Dolls – Oompa Toys
Cute baby dolls and simply wonderful toys
A child will never forget their first baby doll. That's why Oompa Toys offers the most cute baby dolls available anywhere...baby dolls so cute, they're irrestible! From teething dolls, knitted dolls, organic baby dolls and puppets, to designer plush baby toys, stuffed animals and many other huggable favorites...find cute baby dolls and simply wonderful toys of all kinds at Oompa Toys.


Shower the one you love with Oompa Toys' extensive line of quality European-made and European-inspired toys -- from classic wooden toys for toddlers; musical, magical toys for babies; educational toys; nursery and playroom décor -- to super cute baby dolls.... read more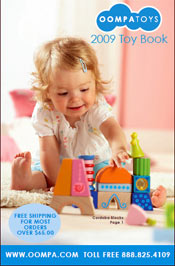 More About Cute Baby Dolls – Oompa Toys:
Other great Old Oompa Toys departments:
When it comes to cute baby dolls, finding the perfect "one" for your little one is easy -- whether they love bears, bunnies, dinosaurs or classic baby doll toys, you'll adore the Oompa Toy collection of pretty babies and cuddly critters that your child can cherish and treasure forever.
Oompa Toys specializes in delivering unique, colorful and educational toys for babies that all parents can feel good about -- from cute baby dolls for snuggly time to fun toys for bath time...to art supplies, educational toys, puzzles, wooden toys, musical instruments and more, you'll find the widest selection of engaging toys, including organic and eco-friendly toys of all-natural materials.
Oompa's children's furniture line also leaves plenty of room for sophistication and style -- find everything from cool, ultra-modern cribs, trendy tables and sleek seating, to dreamy beds & bedding, smart desk designs and clever playroom storage options.