Catalogs.com Departments

News & Articles

Fun Traveling Games - Young Explorers
Fun traveling games are great for keeping kids entertained
Fun traveling games from Young Explorers will entertain kids during car rides, plane or train trips so that parents don't have to hear "Are we there yet?" over and over again!


Imagine a long trip without bickering, fighting and boredom. It's possible with the great variety of fun traveling games you'll find here that are perfect for kids of all ages! Children can entertain themselves with games like scavenger hunt, 20Q deluxe, cool tools activity set, Conversations to Go, I Spy word scramble, Mind Quest and so much more! They'll have so much fun, you'll be at your destination before they know it.... read more



Shop for fun traveling games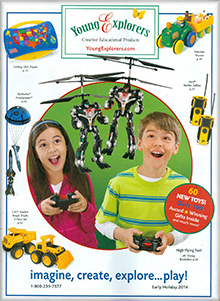 More About Fun Traveling Games - Young Explorers:
Other great Young Explorers departments:
Fun traveling games are great while you're on the road, but also provide lots of amusement once you've arrived. These portable games will provide endless entertainment over holiday breaks, spring and summer vacations, whether you spend them with family, at the beach or out of the country. From toddler to teen, everyone can have a great time playing together.
Now traveling will be a blast when you take along fun traveling games! Perfect for playing when you're on the road or in the air, and for the duration of your family trip.