Catalogs.com Departments

News & Articles

Girls Room Decorations - Stylish Kids Rooms
Girls room decorations for the cool and stylish girl
Your little girl will have the most delightful room in the neighborhood with the colorful, unique girls room decorations from Stylish Kids Rooms.


What kind of girl do you have? A pampered princess or a modern day diva? Whatever her personality, girls room decorations come in a variety of styles perfect for her. The Garden Party collection suits the girly girl who loves entertaining her stuffed animals and friends with tea parties, while the C'est Chic collection is for today's girl who knows exactly what she wants -- in pink and black! Other collections include Vine and Roses, That's Toile and Royal Highness for the little princess.... read more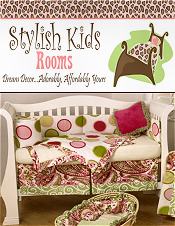 More About Girls Room Decorations - Stylish Kids Rooms:
Other great Stylish Kids Rooms departments:
With girls room decorations fitting each collection perfectly, girls will have a complete bedroom that shows their individual style. Rocking chairs, toy boxes, bookcases, picture frames, vanities, table and chair sets, artwork and more come with each collection, making her room a beautiful place to read, relax and play!
With the stylish girls room decorations you'll find here, your little girl will have a whimsical, fun room that she -- and you -- will love.