Catalogs.com Departments

News & Articles

Imaginative Play Ideas - Young Explorers
Imaginative play ideas are great fun for all kids
Children are great at pretending and inventing their own kind of fun. Imaginative play ideas are a wonderful way to spark a child's creativity, whether she pretends to be a doctor, ballerina or dinosaur!


Nothing can compare to a child's imagination! Give them imaginative play ideas and prepare to be amazed. Choose from dress dolls, soft stick horses, makeup stations, wooden play sets, fire or police station sets, rockets, dress up trunks and much more.... read more



Shop for imaginative play ideas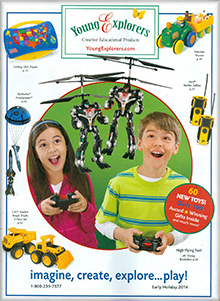 More About Imaginative Play Ideas - Young Explorers:
Other great Young Explorers departments:
These toys are perfect for girls and boys and all that's required is a little bit of imagination!


Do you have a child who imagines himself a super spy? Then give him spy vision goggles or a spy glove and watch him create his own world of international espionage. Apron sets and floating tub cook sets are great for little chefs, while vet kits and pretend and play doctor sets will give aspiring doctors the tools they need for hours of fun play. Imaginative play ideas work for whatever your child has in mind!
Let Young Explorers provide your little boy or girl with imaginative play ideas that will turn them into cooks, dancers, astronauts, reptiles, heroes and anything else their imaginations can dream up!