Catalogs.com Departments

News & Articles

Teens Bed Sets - Stylish Kids Rooms
Teens bed sets for the stylish teen
Your teen wants a bedroom that reflects her personal style, so choose teens bed sets that are uniquely her -- she'll love it and so will you!


Your teenage girl has a mind of her own and she wants her space to showcase her individuality. Teens bed sets help her to do just that by reflecting her sense of style, whether it's girly or chic. Colorful designs add brightness and cheer, while soft, quality materials make her bed incredibly comfortable, whether she's sleeping, talking on the phone or chatting online.... read more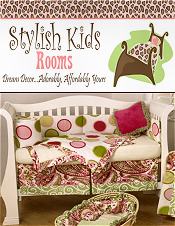 More About Teens Bed Sets - Stylish Kids Rooms:
Other great Stylish Kids Rooms departments:
Bright, tropical colors light up a room in the Love My Room Bright bedding collection and soft pastels and retro swirls make up the Flair bedding set. Other teens bed sets include the bold Femme, the whimsical Fairy and ultra feminine Paper Dolls, perfect for the girl who loves to shop, talk and spend time with her friends.
Add some flair to your teenager's room with unique and beautiful teens bed sets that she'll love hanging out in, by herself, with friends or with you!