Big Mens Fashions - Casual Male Big & Tall
Big mens fashions keep big and tall guys in style
Big and tall men need clothing that not only fits, but flatters their larger frames. If you also want style pointers, you'll find big mens fashions that are already put together for you. Using these suggestions can add to your wardrobe as well as give you tons of ideas for creating your own style.


Big mens fashions made easy - It doesn't get easier than having complete outfits made for you.... read more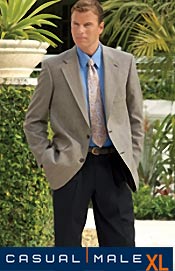 More About Big Mens Fashions - Casual Male Big & Tall:
Other great Casual Male XL departments:
You just pick your size and color. Everything from shirts, tees, camp shirts, sweaters, sport coats, shorts, jeans, pants, slacks, accessories and shoes are detailed! You can choose the catalog colors or tailor the outfit to your specific preference and favorite colors. It's all up to you! This is a perfect option for men who are seeking suggestions when it comes to how to put a great look together.


Complete collections - Where are you headed? A backyard barbeque, garden party, vacation or dressy casual event? Whatever your needs, big mens fashions will meet them with style! Choose from complete collections like Wave Runners, Coastal Casual, Island Hopping, Summer Hangout, Day at the Beach, Power Lunch, Backstage Pass, Corporate Outing and more.
Quick and easy shopping - If shopping isn't your favorite activity, this online option is a great solution for you! Choose an outfit, then simply select your color and size. While you can buy pieces separately, this is one way to put entire outfits together without wondering if it's all complementary. The hard part has been done for you. For busy executives or men who would rather do anything than shop, buying fashions this way can take the drudge out of looking for clothes!
Casual Male Big & Tall not only provides big mens fashions for every walk of life, they also offer complete outfits for men who want to simplify their shopping. Look great no matter the occasion, without having to worry about every little detail. Smart!