Big Mens Tee - Casual Male Big & Tall
A big mens tee is a great casual item
Long or short sleeved, a big mens tee is the perfect way for the big and tall man to relax. Versatile and incredibly comfortable, tee shirts are a large part of many men's wardrobes. Now the man who is taller or heavier than average can enjoy tees that fit. Long sleeve versions don't creep up and all are long enough to cover your torso!


A big mens tee for casual wear - For the majority of casual occasions, a tee shirt works just fine.... read more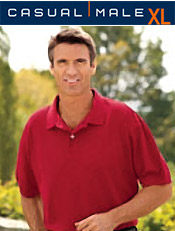 More About Big Mens Tee - Casual Male Big & Tall:
Other great Casual Male XL departments:
Perfect for weekend hanging out, movies, pool parties, game night or anytime you want to be comfortably casual, a tee is great. With so many color and style options, even the big and tall man can get just the design he wants. Whether you prefer something plain and simple or you love the look of graphic tees, there's a perfect tee shirt for you here.


Great fit at a great price - Casual Male Big & Tall makes sure that big guys get the fashions they need at affordable prices. Plus, you get the perfect fit you deserve! No more worrying that your shirt sleeves won't cover your wrists or ride up over your stomach. Choose lightweight pocket tees, California tees, Surf Pacific tees, Ecko Unlimited, Nascar, crewneck tees, baseball tees, screen tees and much more!
Designer names in big and tall - If you love designer names like Sean John, Nautica, Rocawear, Reebok and Calvin Klein, you'll find these brands and more in a big mens tee that's as comfortable as it is stylish. Pair these smart shirts with jeans, shorts, khakis, board shorts and a variety of casual shoes. Easy and laidback, you'll enjoy all the different styles and designs made with the big and tall man in mind.
Just because you're big and tall doesn't mean you have to forgo style. From professional wear to weekend attire, find everything you need right here, including a big mens tee that's fashion forward or simply chic.