Catalogs.com Departments

News & Articles

Discount Women's Tops - Soft Surroundings Outlet
Discount women's tops are affordable and fashionable
If you want to save money, but still be stylish, shop for discount women's tops that are less expensive, but no less beautiful! Soft Surroundings Outlet has a huge selection of gorgeous shirts perfect for any season of the year, all at discount prices.


Why pay full price for a fashionable top when you can get the same shirt for less? Discount women's tops offer you affordable style that's easy on your wallet.... read more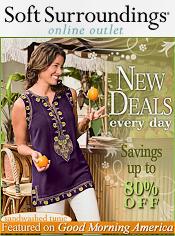 More About Discount Women's Tops - Soft Surroundings Outlet:
Other great Soft Surroundings Outlet departments:
Choose from summer tees or winter turtlenecks and everything in between. These lovely tops are great for work, weekend and casual occasions.


Flutter sleeve tops, comfy lounge tops, sparkle tees, cherry blossom hoodies, lotus tanks, starlet tees, necklace tops, pullovers, ballerina tees, tunics, silk lily ponchos and more are just some of the gorgeous choices you have in discount women's tops. With these great savings, you can buy two or three shirts for the price of one!
You can save money, but still look like a million bucks with discount women's tops. It's affordable fashion at a price you'll love!