Catalogs.com Departments

News & Articles

Floral Print Clothing - Serengeti
Floral print clothing is feminine and flirty
Nothing says feminine like flowers. If you love flirty and fun designs, floral print clothing is a wonderful way to display your femininity wherever you go.


Do you like allover floral patterns or do you prefer something more subdued? No matter which style you like, you'll find the perfect attire for you. Floral print clothing includes floral dresses, embroidered flowers tunic and pant sets, patchwork skirts, floral garden dresses, blue ferns and flowers dresses, summer flowers sweater skirt sets, watercolor floral dresses, butterfly garden dresses, embroidered daisy vine kurtas and so much more!



You can even sleep in floral print clothing when you choose a delicate smocked nightgown or lavender flowers nightgown.... read more



Shop for floral print clothing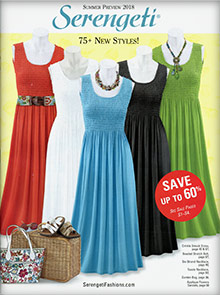 More About Floral Print Clothing - Serengeti:
Soft and comfortable, you'll be surrounded by flowers all night long. Short sets, hoodie and tank top sets, jackets, sweatshirts, tops, tunics and more are all available with colorful and vibrant floral patterns designed with femininity in mind.

Serengeti has a wonderful selection of floral print clothing that will take you to a variety of casual and dressy occasions in great style!