Mens Knit Sweaters - Horny Toad
Mens knit sweaters are the best way to stay warm and comfortable
When the temperature's plummeting, put your fashionable foot forward, while staying warm and dry.


Enjoy the Great Outdoors in any kind of weather and still look like a million bucks - Take advantage of this wide selection of rugged, yet fashionable mens winter clothing, available in many sizes and styles. No matter where you work or hang out, this line of mens knit sweaters offer something for every guy.... read more


This catalog is currently out of stock.


Please search through our categories for another catalog.


- or -

Shop for mens knit sweaters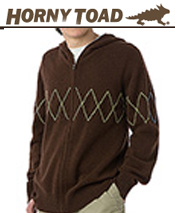 More About Mens Knit Sweaters - Horny Toad:
Other great Horny Toad Activewear departments:
Whether you're out on the ball field or in the boardroom, these casual pullovers, fashionable cardigans or sporty zippered sweaters are the ideal addition to any guy's wardrobe.


Choose the perfect look and feel in your outerwear - When it comes to wearing mens coats and knit sweaters you need to choose carefully. After all, it's not so easy to stay warm and look your best if you're itchy or sweaty! But Horny Toad's line of mens sweaters feature luxurious and durable fabrics, like winter-friendly lambswool and our own unique and long-lasting Machino Merino wool.
Eye-catching attributes - These mens sweaters vests and knit sweaters offer the features that men have come to expect in their clothing. They're all machine-washable, odorless and roomy and comfortable. These mens coats and sweaters sport zippered pockets, reinforced stitching and other benefits, as well. You'll find cold-weather sweaters that keep out moisture, as well as lightweight pullovers.
For all of your mens knit sweaters shop online with Horny Toad.