Catalogs.com Departments

News & Articles

Summer Style Dresses - FreshProduceClothes.com
Summer style dresses are casual and cool fashions
Summer is a season for picnics, beach outings, vacations and long, relaxing afternoons. Enjoy the hot weather in summer style dresses that are designed to keep you cool and looking fabulous!


It's summer and you want to look stylish without looking overdone. Summer style dresses are the perfect solution to easy, casual chic. Choose from dresses like an abstract flower v neck ruffle dress, hideaway flower sundress, twirly dresses, fish tank dresses, sweet poppies bon voyage dress, simple tank dress, surplice sundresses and much more! These easy styles work wonderfully for the hottest months of the year.... read more


This catalog is currently out of stock.


Please search through our categories for another catalog.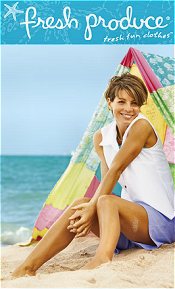 More About Summer Style Dresses - FreshProduceClothes.com:
Other great FreshProduceClothes.com departments:
Comfortable, breathable fabrics are hallmarks of the summer style dresses you'll find at FreshProduceClothes.com. Soft cotton and cotton jersey feel great next to your skin without clinging. You'll be able to enjoy shopping trips, errands, beach outings, picnics, vacation destinations or garden parties at home in a casual, carefree way that fits in perfectly with summer.
For the ultimate in warm weather fashion, choose summer style dresses and have the best summer ever!