Tall Men's Leather Jackets - Casual Male Big & Tall
Tall men's leather jackets are perfect cold weather wear
Tall men's leather jackets make wonderfully stylish cold weather wear. If you're a big and tall man, you need jackets that have the right proportions to make you look your best. Now you can have the perfect leather jacket from Casual Male Big & Tall, a leader in the big and tall men's clothing industry, who understands the special needs of men who are taller and/or bigger than average.... read more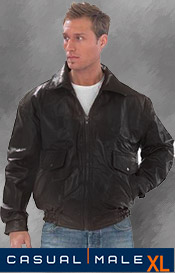 More About Tall Men's Leather Jackets - Casual Male Big & Tall:
Other great Casual Male XL departments:
Tall men's leather jackets for fall and winter - You'll look fashionable and smart in a leather jacket, whether you wear it over your work suit or on weekends. Choose a dressier style for the work week and a more casual option for when you're off. These leather jackets will take you through many seasons in stylish warmth and comfort. Perfect for home or for taking on vacation.



Different styles for different tastes - Leather jackets are not all the same. You'll find a nice selection here, including faux sherpa lined leather motorcycle jacket, nappa leather bomber jacket, lambskin leather jacket, suede jacket, open bottom leather jacket, leather bomber jacket, zip front leather jacket and button front leather jackets. Find brand names you know and trust such as Polo Ralph Lauren, Nautica, Claiborne, Harbor Bay and Izod.



Buy from a big and tall men leader - You know you'll get what you need from a big and tall retailer like Casual Male. Extra long sleeves and adequate length are just a couple of features you'll find in these tall men's leather jackets. You also get superb design and high-quality materials that look and feel great!


If you're looking for the right jacket for crisp fall days and winter nights, then tall men's leather jackets will not disappoint! Buy it for yourself or, if you have a big and tall man in your life, give one as a gift that's sure to be loved and worn for years to come.