Catalogs.com Departments

News & Articles

Toddlers Dress Shoes - Puddles Collection
Browse a selection of toddlers dress shoes for any occasion
Does you little one need an adorable new pair of toddlers dress shoes to go with their cute little tux or elegant little dress? Look no further than the extensive collection of toddlers dress shoes from Puddle's Collection.


Is your little one attending an evening function or a formal wedding? Browse a number of different styles and sizes for your little ones! They'll be eye catching in any one of the classic black dress shoes for children.... read more


This catalog is currently out of stock.


Please search through our categories for another catalog.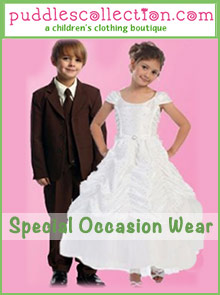 More About Toddlers Dress Shoes - Puddles Collection:
Other great Puddles Collection departments:
Keep your little one looking cute from head to toe with elegant toddlers dress shoes! If your little one needs a pair of dress shoes for a spring time wedding or Easter, you can browse a large variety of white dress shoes and wonderful pastel shades.
From bright, bold colors to lovely and traditional black styles, you can find the perfect toddlers dress shoes for every occasion. From church to a holiday party, your little one will have a wonderfully elegant ensemble and look chic from head to toe.
Don't settle for expensive, poorly made shoes! You don't have to break the bank for your child to look good. Browse through affordable and stylish toddlers dress shoes today.