Catalogs.com Departments

News & Articles

Trendy Casual Clothing - Waterfronts Nautical
Trendy casual clothing keeps guys fashionable year-round
You'll look great and feel comfortable in the stylish collection of trendy casual clothing at Waterfronts Nautical. These garments will take you through more than trips on the ocean. They'll also look good on land, so get ready for any casual event in clothes that fit and look fantastic, no matter where you are.


Trendy casual clothing for men - When you're not at work, you want to be comfortable, but stylish, too.... read more


This catalog is currently out of stock.


Please search through our categories for another catalog.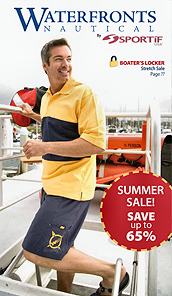 More About Trendy Casual Clothing - Waterfronts Nautical:
Other great Men's Nautical Clothing departments:
You'll always look sharp in these fashionable options without being overdressed. Choose from such casual pieces as polo shirts, seersucker shirts, chinos, jeans, linen jackets, cargo pants, cargo shorts, convertible pants, blazers, cruiser shorts, button front shirts, sport trousers, silk shirts, sweatshirts, sandals and much more!


Complete outfits work for many different occasions - These complete collections have every piece put together for you, making shopping quick and easy! This is perfect for the busy professional, as well as for the man who needs pointers on how to create a memorable ensemble. Everything from shirts, pants, shorts, jeans, shoes and accessories are already assembled. All you do is choose your size and choice of colors. It doesn't get easier than that for guys who want their shopping to be as painless as possible.
Perfect for year-round wear - You'll find trendy casual clothing that works for all seasons. Shorts will carry you through spring and summer, while pullovers, jackets and slacks will keep you stylish during fall and winter. Enjoy sporting events, garden parties, corporate casual occasions, vacations and more in these great trendy casual clothing pieces. With such a wide variety, every man is sure to find the perfect outfit for him, wherever he goes.
For casual clothing that's still elegant and stylish, you have a huge selection of fashionable choices. Find what fits your style and personality for many different occasions.