Western Horse Apparel - Back in the Saddle
Western horse apparel is rugged fashion at its best
You need rugged and durable clothes that will get you through a day of working on a ranch, but you still want to look like a lady. Western horse apparel is designed with tough, but feminine women in mind!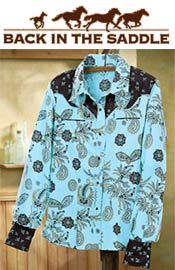 More About Western Horse Apparel - Back in the Saddle:
Other great Back in the Saddle departments:
Besides rugged wear like a plaid lined denim jacket, winter breeches, Telluride ladies jacket, riding jackets, barn jackets, oilskin jackets, riding tops and ranch vests, you'll find plenty of women's styles that are made for off-the-ranch as well.


Western horse apparel appeals to women who simply love western theme clothing, like denim shirts, cowgirl concho skirts, horseshoe embroidered vests, women of the west tops, laredo shirts, fleece pullovers, hoofbeats cardigans, horsing around sweaters and much more! You can wear these clothes while riding or relaxing.
Back in the Saddle carries a variety of western horse apparel that's great for work or play!