Women's Fleece Pullovers - Horny Toad
Women's fleece pullovers enhance any outfit while preserving warmth
Embrace winter's beauty, while showcasing your sense of style in attractive women's fleece pullovers and outerwear.


Dress for success in women's winter clothing, no matter the time of year - Horny Toad understands how women want to look and feel. This line of women's fleece includes sporty hoodies, charming women's outerwear jackets, comfortable lounge pants and eye-catching women's fleece vests.... read more


This catalog is currently out of stock.


Please search through our categories for another catalog.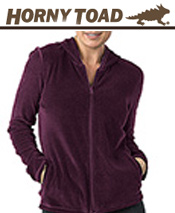 More About Women's Fleece Pullovers - Horny Toad:
Other great Horny Toad Activewear departments:
Experience an extensive selection of sumptuous fabrics and alluring fashion features - This collection of women's winter clothing rewards discerning shoppers with stunning touches, like rich fleece collars, high-quality stitching, ridged cuffs, deep pockets, and an eye-opening display of designs and patterns. These women's fleece pullovers and winter clothing options boast a plethora of luxurious materials. You'll be able to select from a worldwide collection of fabrics, such as thick Euroshag, organic cotton-based velour, and soft Cashmoore fleece.
Styles and sizes for all women - As Horny Toad understands female fashion concerns, they carry an array of styles of lightweight and warmer women's fleece winter outerwear. And when the sun comes out, Horny Toad's women's fleece pullovers and vests feature removable hoods and lightweight materials.
Experience a Winter Wonderland with these women's fleece pullovers and vests.