Catalogs.com Departments

News & Articles

Womens Holiday Apparel - Serengeti
Womens holiday apparel is perfect for celebrating the season
Celebrate the season in unique style with womens holiday apparel that's sure to put fun and festivity into your holidays! You'll find a cheerful selection of clothes and accessories that are sure to put you in the holiday spirit.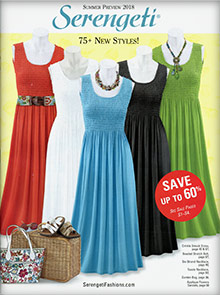 More About Womens Holiday Apparel - Serengeti:
Bright red poinsettias, Christmas trees, reindeer and snowmen are some of the designs on these attractive and sometimes whimsical garments. No one will doubt your holiday spirit when you wear apparel that's perfect for celebrating this special season!


Enjoy the holidays dressed in knit tops, sparkling sweatshirts, velvet jumpers, pant sets, poinsettia scarves, velvet gloves, sweaters, velvet skirts, vests, loungers and more, all with festive designs and decorations that you'll love! Have a great time in your womens holiday apparel at parties, family gatherings and friendly get-togethers all season long.
Serengeti carries a wonderfully festive selection of womens holiday apparel that's as stylish as it is beautiful, a great way to celebrate this time of year.