Catalogs.com Departments

News & Articles

Women's Wool Sweaters - Horny Toad
Women's wool sweaters are the perfect winter accessory
Warm up to fashionable and comfortable women's wool sweaters in a selection of styles and designs.


Ward off the winter chill with a selection of attractive women's wool sweaters - Keep cozy, and keep your cool, with women's wool sweaters designed for the casual and classic looks that are so sought-after. Designed for professional settings and casual fun alike, this collection of women's winter outerwear envelopes you in lovely style.... read more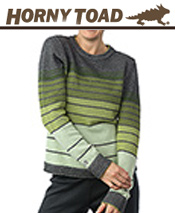 More About Women's Wool Sweaters - Horny Toad:
Other great Horny Toad Activewear departments:
The Horny Toad line of warm women's winter outerwear provides the ideal addition to any outfit.


Fabulous fabrics and accessories - Embrace your more playful side with this collection of stunning pullovers, zippered sweaters and delightful women's hooded sweaters. These women's wool sweaters are machine washable and sport Horny Toad's own unique material, a dense, warm and non-itchy blend known as Machino Merino wool.
Eye-catching features and amenities - Horny Toad's collection of women's wool sweaters envelope fashion-forward women with essential and appealing benefits. You'll find such funk features as knitted hoods, full-fashioned sleeves, wide cuffs, zippered fronts, quilted patches, side vents, and lovely designs and patterns.
Hold in your warmth and keep your cool with Horny Toad women's wool sweaters.