Catalogs.com Departments

News & Articles

Bead Necklace Kits – Sunshine Discount Crafts
Create one-of-a-kind necklaces with bead necklace kits
Have hours of fun making your own dazzling jewelry with bead necklace kits. Create a variety of different necklaces that look great, sparkle and adds a little twinkle to any outfit.


Accessorize outfits – If you love putting together spectacular fashions, then you know the importance of accessorizing. With bead necklace kits, you can create one-of-a-kind necklaces that will liven up even the most drab gear.... read more


This catalog is currently out of stock.


Please search through our categories for another catalog.


- or -

Shop for bead necklace kits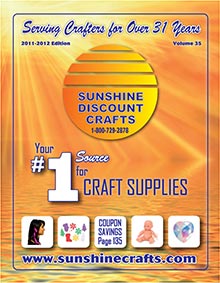 More About Bead Necklace Kits – Sunshine Discount Crafts :
Other great Sunshine Discount Crafts departments:
So be creative and be you.


Create different styles – The possibilities are endless when you make your own necklaces with bead necklace kits. You can choose from a number of different beads including glass beads, alphabet beads, clay beads, natural stone beads, even bone beads. Use only one style of bead for a standardized look, or go wild and combine different kinds of beads for a totally cool look.
Make great gifts – There's nothing more precious than a homemade gift. With bead necklace kits, you can make beautiful necklaces for mothers, datughters, aunts and friends. You can give extra attention to each necklace to ensure that the design fits the personality of the person receiving the gift.
Let your creative juices flow with bead necklace kits that have everything you need to make uniquely special necklaces. Accessorize your favorite outfit and have everyone wanting your one-of-a-kind necklaces.