Catalogs.com Departments

News & Articles

Clay Projects - Sunshine Discount Crafts
Clay projects bring enjoyment to kids and adults
Get free clay projects to try out with this varied selection of crafty ideas.


Make your own dolls - If you've always wanted to create your own clay dolls, choose a basic dollmaking push mold project to see how it's done. Learn techniques to bring your dolls to life.



Learn clay beading - Projects like clay beading give you an introduction to creating clay beads.... read more


This catalog is currently out of stock.


Please search through our categories for another catalog.


- or -

Shop for clay projects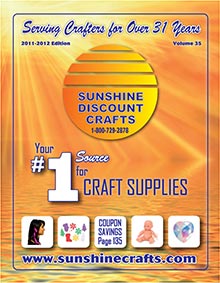 More About Clay Projects - Sunshine Discount Crafts:
Other great Sunshine Discount Crafts departments:
From there, make your own unique jewelry with the beads you formed by hand.


Create cute clay ornaments - Other free clay projects you can choose include angel and snowman ornaments, perfect for the holidays. Keep them for yourself or give as handcrafted gifts.
A variety of clay projects - Besides jewelry and dollmaking projects, try your hand at mixed media, clay frames, creative scrapbooking and pins, all created with clay. You have nothing to lose with these free project ideas.
Sunshine Discount Crafts helps you create clay projects you'll love with a selection of free ideas.