Catalogs.com Departments

News & Articles

Floral Crafts Supplies - Sunshines Discount Crafts
Beautify your home with floral crafts supplies
Are you an interior design wannabe with a knack for crafts? Are you looking for affordable, do-it-yourself wedding flower ideas?


Floral crafts supplies can help! Whether youíre just dabbling in creating new and exciting arrangements or youíre an event designer who needs a large quantity of floral crafts supplies for a low price, youíll find what youíre looking for here!



Floral crafts supplies from Sunshine Discount Crafts can provide you with supplies you need to create beautiful and unique arrangements.... read more


This catalog is currently out of stock.


Please search through our categories for another catalog.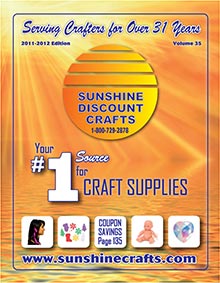 More About Floral Crafts Supplies - Sunshines Discount Crafts:
Other great Sunshine Discount Crafts departments:
This large selection of floral crafts supplies offers a number of equipment including artificial pine trees that are perfect to help you create an amazing holiday centerpiece.


Donít spend thousands of dollars on designer centerpieces and arrangements that you can make yourself with the right floral crafts supplies. From charming and dainty birds nests to essentials such as lights and cinnamon sticks, youíll have a great time browsing a large variety of floral crafts supplies that are useful for every occasion.
Donít settle for expensive imitators that offer low quality floral crafts supplies. Look for fun and festive floral crafts supplies that work for every occasion. Find exactly what youíre looking for at the right price with Sunshine Discount Crafts.