Educational Science Kit - American Science & Surplus
Make learning fun again with an educational science kit
Are you looking for a way to make chemistry, biology and physics fun for your child? An educational science kit from American Science & Surplus combines interactive tools with fun science projects to help your child learn more about earth science, anatomy and more!


Turn a rainy day into a full day of scientific learning! From planting a cool mushroom farm to building robotic creatures, your day is sure to be full of fun and learning with an educational science kit.


... read more


This catalog is currently out of stock.


Please search through our categories for another catalog.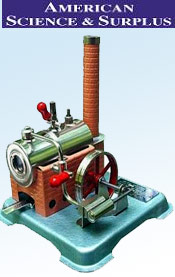 More About Educational Science Kit - American Science & Surplus:
Other great American Science & Surplus departments:
If you're not sure which educational science kit will best suit your budding scientist, purchase a gift certificate that will allow your child to choose their own fun science products.
Teach your child about environmentally safe alternative energy sources with a high tech solar kit. This fun educational science kit is equipped with everything you need to capture the power of the sun, including instructions on how to power small electronic devices such as radios and battery chargers.
Does your child dream of one day being a police detective? Give them a head start with an educational science kit that applies real-life police and FBI methods such as dusting for fingerprints. Your little investigator will be solving crimes in no time with spy manuals, invisible ink markers and more!