Catalogs.com Departments

News & Articles

Black Cooking Apron - Michael Jordan Steaks
A black cooking apron is stylish and sophisticated
While you're buying Michael Jordan's signature steaks, why not buy a black cooking apron to wear while you're cooking or grilling those tender cuts of beef?


When you're talking about practicality, a black cooking apron is the way to go. It won't show all the smudges and stains that come from a day spent behind the grill, but will look as stylish and cool as when you first put it on.... read more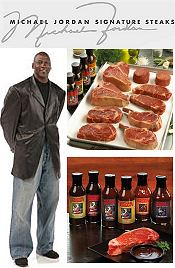 More About Black Cooking Apron - Michael Jordan Steaks:
Other great Michael Jordan Steaks departments:
This unique apron from Michael Jordan Steaks features a small section of graphic prints as well as the autograph of the basketball legend himself!


So it might not make you a better chef, but you can certainly look the part in this black cooking apron. Perfect for men and women, it's handy to have in the kitchen or by the grill. Order one at the same time you purchase one of Michael Jordan's signature steaks and you'll be ready the next time you're the cook in charge.
If you're a real MJ fan, collecting memorabilia is important to you. Get a black cooking apron from Michael Jordan's steak company and look the part the next time you're grilling one of his delicious cuts of beef.