Catalogs.com Departments

News & Articles

Michael Jordan Bobble Head - Michael Jordan Steaks
A Michael Jordan bobble head makes a great gift
For the ultimate Jordan fan, buying his signature steaks is already a treat. Add some fun into your steak buying with a Michael Jordan bobble head that comes complete with apron, basketball and a tender cut of beef.


You have bobble heads of MJ slam dunking and holding a basketball, but how many do you have of him posing with a steak from his steak company? Now you can add a Michael Jordan Steaks bobble head to your collection.... read more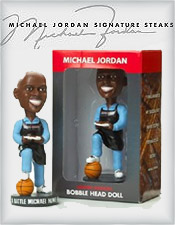 More About Michael Jordan Bobble Head - Michael Jordan Steaks:
Other great Michael Jordan Steaks departments:
For fans who collect all the memorabilia they can get their hands on, this Michael Jordan bobble head is another figurine to add to your cool collection.


Whether you leave it in the box as a collector's item or you give it a playful little tap now and then, a Michael Jordan bobble head is an amusing diversion. If you order steaks as gifts, add one of these bobble head figures to the package as something extra and fun! He's smiling, he's holding a steak and wearing his own steakhouse apron -- this adorable bobble head can encourage you from the sidelines when you're grilling.
A Michael Jordan bobble head makes a great gift to go along with his delicious steaks, sauces and marinades.