Backyard Bird Supplies - Whatever Works
Backyard bird supplies keep your feathered friends happy
For bird lovers, having a variety of backyard bird supplies is a wonderful way to have everything you need on hand to create an inviting and pleasant environment for your feathered friends.


You enjoy seeing brightly colored birds flock to your yard, so provide backyard bird supplies that they love, including a great selection of bird feeders and fountains.... read more



Shop for backyard bird supplies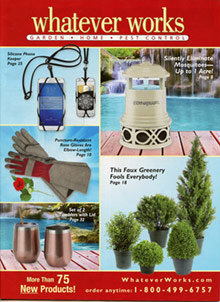 More About Backyard Bird Supplies - Whatever Works:
Other great Whatever Works departments:
Whatever Works has a unique variety of feeders such as a St. Francis birdfeeder, window hummingbird feeder, wall mount and mosaic birdfeeders, sure to provide the delicious food birds want year round.


Give your bird pals a comfortable place to rest and nest with these inventive and beautiful birdhouses. Find houses shaped like fire hydrants or flip flops, or choose from a set of three nesting houses. Don't forget backyard bird supplies like high powered binoculars so that you don't miss any of the action! All kinds of birds will flock to your yard for the food, water and comfortable surroundings when you provide them with everything they need.
Casual and serious birdwatchers and bird lovers alike will find a wealth of unique and useful backyard bird supplies, perfect for inviting feathered friends to your home!