50th Anniversary Wedding Gifts – Brides Village Wedding Accessories
Celebrate half a century together with 50th anniversary wedding gifts
Marriage is a sacred covenant to uphold and cherish for year. For loving couples who have spent the last 50 years together, hats off to you! You deserve the best 50th anniversary wedding gifts to celebrate your half a century together in marriage.


Over the years, couples like to capture precious moments with pictures. 50th Anniversary Photo albums are the perfect 50th anniversary wedding gifts for those who like to keep memorable times close to their hearts.... read more


This catalog is currently out of stock.


Please search through our categories for another catalog.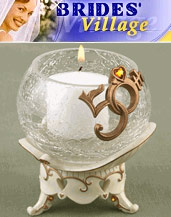 More About 50th Anniversary Wedding Gifts – Brides Village Wedding Accessories:
Other great Brides Village Wedding Accessories departments:
The words "50th Anniversary" are beautifully stamped in gold foil on the outside cover, making these albums special.


50th anniversary wedding gifts are as unique as the couples that reach this impressive milestone. Commemorate a couple's glorious achievement with 50th Anniversary Plaques. These plaques have a special love poem written in gold font on the front, describing a couple's loving journey together. Made from fine porcelain, these plaques also have built-in stands for easy display.
Toast to spending half a century together with 50th Anniversary Wedding Flutes. Loved by many, these elegant flutes make perfect 50th anniversary wedding gifts. Honor the years spent together as you sip from these gorgeous flutes. The words "50th Anniversary" are ornately scripted in gold on the flutes.
Help special couples celebrate 50 glorious years together with 50th anniversary wedding gifts.