Catalogs.com Departments

News & Articles

Army Medals Display - United Displays of America
An Army medals display celebrates honorable military service
Create a dignified showpiece for any room of your home with an Army medals display. Remember your service to your country each time you look at this finely crafted display table which houses your precious medals.


If you enjoyed a long, distinguished Army career, you probably have the awards that detail years of dedicated service. Now you can prominently showcase your medals in an Army medals display.... read more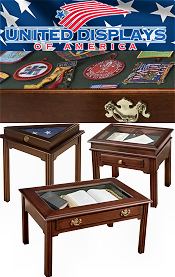 More About Army Medals Display - United Displays of America:
Other great United Displays of America departments:
A glass top table will hold your medals and the U.S. flag, allowing everyone to celebrate your military career with you.


A large display table will hold a number of your medals, while an end display table is perfect for placing on the side of a couch. An Army medals display table makes a wonderful gift for the man or woman who served their country well and earned awards that celebrated their achievement. Finely crafted bronze plaques are customized for each branch of the armed forces.
United Displays of America helps to honor those who served their country. An Army medals display is a great way to remember and respect these special men and women of the military.