Corporate Personalized Gifts - 4imprint
Corporate personalized gifts are great for clients and employees
Whether you're looking to reward an employee for a job well done or are showing customers how grateful you are for their business, corporate personalized gifts are the perfect answer. 4imprint offers customized and engraved corporate gifts for virtually everyone on any walk of life.


Keep your company on the cutting edge with unique corporate personalized gifts that your customers and employees will actually get some use out of! Choose from cool, high tech corporate personalized gifts like digital frames, laptop bags and noise canceling headphones.... read more



Shop for corporate personalized gifts


Catalogs.com Limited Time Savings:


Get 10% off orders of $100 or more


Enter coupon code - CAT19 - in the Coupon/Promo box in your shopping cart on the 4imprint website.


(offer expires: 06-29-2019)

Click to report savings error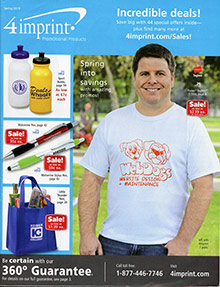 More About Corporate Personalized Gifts - 4imprint:
Other great 4imprint departments:
Place your company logo on eco friendly totes for your environmentally conscious employees or help your golf-loving employee tee off with high quality golf balls. Don't' settle for boring corporate gifts like towels and stationary! Browse a selection of fun games like electronic tic tac toe or a brain trainer game.
Looking for a gift for the food lover in your company? Give them corporate personalized gifts they'll actually look forward to with barbeque gift sets, picnic backpacks and more, all complete with your company's logo!
Corporate personalized gifts are the perfect way to tell your employees and clients that you care. With a wide selection of corporate custom gifts to choose from, you're sure to find the unique, functional gifts that everyone will love!