Catalogs.com Departments

News & Articles

Gold Necklace Chains – Sunshine Jewelry
Adorn your wardrobe with gorgeous gold necklace chains
You are not fully dressed unless you wear gold necklace chains to accent your latest fashions. Regardless of your style, there are necklaces that complement your look and add sparkle to your wardrobe without going over your budget.


Gold necklace chains go great with any outfit. When you're ready to accessorize, add a little bling when chill in your favorite T-shirt and jeans or enhance that little black dress for special occasions.... read more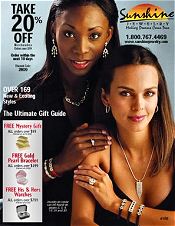 More About Gold Necklace Chains – Sunshine Jewelry:
Other great Sunshine Jewelry departments:
The only question next is what will you wear today?


Depending upon your preference, choose from 14K white gold or the classic beauty of 14K yellow gold necklace chains. Whatever you choose, you will make a lasting impression and show everyone that you have good taste when it comes to fine jewelry.
Gold necklace chains look good plain or adorned with your favorite pendent. You can select from a variety of simulated colored gem pendants to accent your necklace and personalize your jewelry collection.
Add a spectacular 14K white gold ring, a cute pair of diamond studs or a brilliant bracelet ornamented with cut stones to wear with your gold necklace chains. You can never have too many fine pieces of jewelry.
Your jewelry box is incomplete without the splendor of stunning gold necklace chains inside. Complete your wardrobe with necklaces that tell a lot about your personality and add beauty to your jewelry collection.