Catalogs.com Departments

News & Articles

Marine Corps Display - United Displays of America
A Marine Corps display celebrates honorable achievement
Marines are some of the toughest members of the armed forces. They don't shy away from dangerous assignments while keeping their country safe. Honor a Marine with a Marine Corps display and show your appreciation.


Even the toughest Marine will love the thoughtfulness that goes into a Marine Corps display. Surprise this service member with a large display table or end display table.... read more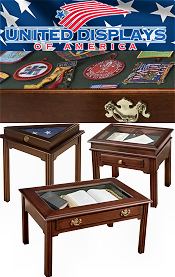 More About Marine Corps Display - United Displays of America:
Other great United Displays of America departments:
Glass tops allow you to see these well-earned medals and awards. Place the U.S. flag inside as well for a patriotic showpiece that will be treasured by anyone who has served his country.


A Marine Corps display adds distinction to a room, whether it's the central focal point or more of a stylized addition. No matter how many medals a Marine has earned, there is a perfect table to show them off. United Displays of America offers beautifully crafted made in the U.S.A. tables that will add elegance to a living room, family room, den or bedroom.
Create a one-of-a-kind patriotic display with a Marine Corps display that celebrates bravery and service.