Catalogs.com Departments

News & Articles

Military Flag Displays - United Displays of America
Military flag displays are dignified and beautiful
If you want a unique and lovely way to remember your time in the armed services or someone close to you, military flag displays are wonderful patriotic testaments to duty to one's country.


Medals and pins from various branches of the armed forces are special honors, but if you want to showcase a treasured flag, military flag displays on glass top tables are another way to show your pride in America.... read more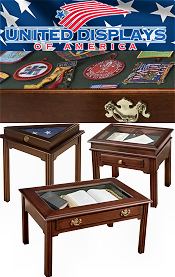 More About Military Flag Displays - United Displays of America:
Other great United Displays of America departments:
Whether you or family members were in the Army, Air Force, Navy, Marines or Coast Guard, these unique display tables can be customized for your particular branch.


Made with pride in the U.S.A., keep your flag clean and protected with military flag displays from United Displays of America. These well-crafted tables will look distinguished in any room of your home and are great conversation starters about a career spent serving your country.
Military flag displays make perfect showcases for active or retired military members, as well as proud family.