Catalogs.com Departments

News & Articles

Music Box for Children - Music Box Attic
A music box for children makes a wonderful, whimsical present
For a wonderful and whimsical selection of children's music boxes, shop Music Box Attic. From clowns, blocks and teddy bears to classic Beatrix Potter, you'll find a music box for children that will delight any girl or boy in your life.


Putting a music box for children in a little girl's or boy's room is a great way to begin their love of music for life.... read more


This catalog is currently out of stock.


Please search through our categories for another catalog.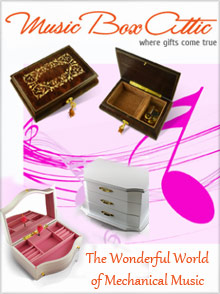 More About Music Box for Children - Music Box Attic:
Other great Music Box Attic departments:
Every time the lid opens, a charming tune plays for the enjoyment of everyone. These elegant and classic designs will work for any age child, from babies to teens, without going out of style.


Masquerades, carousels, bunny rabbits, baby blocks and clowns are some of the imaginative and colorful designs you'll find decorating these beautiful musical boxes. Kids can place jewelry, special mementos and keepsakes into a music box for children, keeping their treasures safe and secure for years to come. Give as birthday, baptism, christening or holiday gifts for the special kids in your life.
Give the unique gift of a music box for children for your own child, grandchild, godchild or any child you love and treasure.