Catalogs.com Departments

News & Articles

Pink Ribbon Products from Century Novelty
Pink Ribbon products including pink ribbon jewelry and gifts
When you buy Pink Ribbon products from Century Novelty, you're also helping to help find a cure with 5% of all Breast Cancer Awareness sales of Pink Ribbon products donated to the Breast Cancer Research Foundation.
Pink Ribbon products - When people see a Pink Ribbon they feel the supportive message it carries. Century Novelty carries a unique line of Pink Ribbon products from umbrellas to pens, Pink Ribbon beach balls to Pink Ribbon compacts, hats and more products that have changed the way the World views Breast Cancer.... read more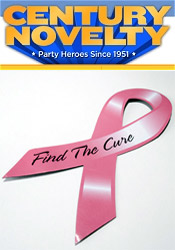 More About Pink Ribbon Products from Century Novelty:
Pink Ribbon jewelry - You'll be charmed by Pink Ribbon charms and jewelry from cell phone charms to bracelet charms and Friendship charm pins all featuring the Pink Ribbon logo. Find Pink Ribbon charms, Pink Ribbon bracelets, Pink Ribbon pendants and Pink Ribbon pins that you can wear with pride while showing off your support to find a cure.
Pink Ribbon stickers - If you or your organization is planning a Pink Ribbon themed Breast Cancer event, you'll find an assortment of Breast Cancer stickers that will have every guest leaving with an inspirational message that will stay with them. Order your Pink Ribbon stickers in bulk for easy and affordable favors or fundraising supplies for Breast Cancer supporters!
From Pink Ribbon jewelry to Pink Ribbon stickers and charms, Century Novelty helps you join the Pink Ribbon Campaign with Pink Ribbon products and items that show you care.