Catalogs.com Departments

News & Articles

Thomas Kinkade Music Box - Music Box Attic
A Thomas Kinkade music box makes an original, whimsical gift
Now you can combine your love of art with your love of music in a Thomas Kinkade music box that will delight your ears every time you open the lid.


If art and music are your two passions, now you can enjoy them both in one beautiful piece. A Thomas Kinkade music box features some of the popular artist's most beloved artwork, including scenes focusing on holiday gatherings, the Serenity Prayer, lighthouses, hummingbirds, wings of love and the joy of Christmas, to name just a few.... read more


This catalog is currently out of stock.


Please search through our categories for another catalog.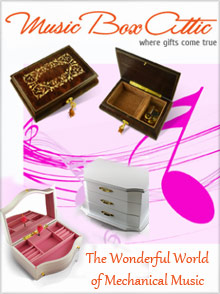 More About Thomas Kinkade Music Box - Music Box Attic:
Other great Music Box Attic departments:
If you're a Thomas Kinkade fan, these musical jewelry boxes are a must-have!


Place your jewelry and keepsakes inside these precious musical boxes and enjoy their beauty for years to come. A Thomas Kinkade music box makes a wonderfully thoughtful gift for anyone you know who loves his art. Exquisite detail and quality craftsmanship make these musical boxes the perfect addition to any collection. Display in any room of your home for a touch of beauty and elegance that will last for years.
Music Box Attic has the perfect Thomas Kinkade music box for any lover of fine art and beautiful music, all combined in one delightful and whimsical piece.