Catalogs.com Departments

News & Articles

Unique Celtic Rings - Nature's Jewelry
Unique Celtic rings are beautiful ways to celebrate Celtic heritage
Now you can showcase your Celtic heritage or present a gift to someone who loves their Irish roots with unique Celtic rings that are elegant and stylish statements.


Display beautiful Celtic designs in a variety of ways. Unique Celtic rings are available in sterling silver or gold, and with a lovely selection of gemstones such as peridot, garnet, white opal, amethyst, jade and more! These elegant rings come in simple styles as well as ornate designs, so the choice is yours.... read more



Shop for unique celtic rings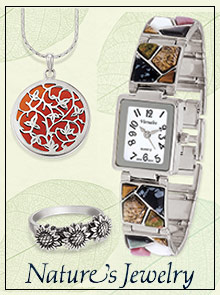 More About Unique Celtic Rings - Nature's Jewelry:
Other great Nature's Jewelry departments:
Nature's Jewelry carries a great selection of unique Celtic rings that are sure to please anyone who loves Celtic culture. Beloved symbols such as the Celtic knot and trinity knot are just some of the familiar designs you'll find on these lovely rings. Perfect for loved ones, family members and treasured friends, these rings make wonderful gift ideas for those who celebrate their Celtic heritage.
Unique Celtic rings are great ways to showcase a culture you love in just the style you want!