Catalogs.com Departments

News & Articles

Wound Care Medical Supplies - The Parthenon Company
Wound care medical supplies for patients at home
You need to care for wounds at home easily and conveniently. You'll find a variety of wound care medical supplies designed to keep you healthy and free from infection. The Parthenon Company provides a great selection of wound care that anyone can use at home.


Wound care medical supplies for home use - Now you can give your wounds the special care they need to heal with a variety of wound care supplies that are easy to use.... read more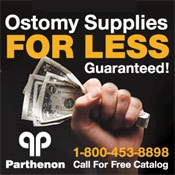 More About Wound Care Medical Supplies - The Parthenon Company:
Other great The Parthenon Company departments:
Choose from brands like Hollister, Convatec and Nexcare for products you can feel secure using. With proper care, you won't have to worry about getting infections, so feel confident in the selection of care products you'll find here. Easy to use and safe for home, your wounds will heal faster with the right supplies.


Affordable and easy - If you're homebound or traveling is difficult, you can enjoy the convenience of home delivery. Find everything you need online to take care of wounds in the privacy of your home. Parthenon offers affordable and accessible options for anyone who requires simple medical needs. These products are designed with your comfort and confidence in mind.
Everything you need - What type of wound care medical supplies do you need? You'll find iodine scrub solution, colostomy dressing, dermal wound cleanser, stretch gauze bandage, composite adhesive dressing, bottom balm, alcohol prep pads, no sting barrier film, karaya powder and much more here, all designed with your health and safety in mind. From minor wounds to ones that need more time to heal, find the products you need.
For many different wound care medical supplies that are perfect for home use, choose Parthenon products. You'll find top quality supplies to help you on the road to health and healing, just what you need to get on the road to wellness!