Debby Burk Optical
The finest selection of non prescription designer reading glasses and eyeglasses accessories
Debby Burk Optical catalog is one of the leaders in non-prescription ready-to-wear designer reading glasses and accompanying eyeglasses accessories, all with a great coupon code for affordable prices. With magnifications from +.75 to +600, they have a style for everyone. You'll also find polarized reading glasses for reading in sunlight, bifocal glasses, and other reading magnifiers to suit your reading needs.
Special Offer from Debby Burk:
Get Free Shipping on all purchases
Enter the Coupon Code - catalogs1 - at checkout on the Debby Burk Optical website.
(offer expires: 04-04-2019) Click to report savings error
What's Inside:
Also check out their complete line of eyeglasses accessories including eyeglass cases, eyeglass holders, magnifiers, lens cleaners and much more. If you need eye glasses for reading, snatch up a pair of their snazzy designer reading glasses. Their motto is, "If you're not 100% satisfied - your money back - no questions asked".
---
You might also like these Health & Fitness catalogs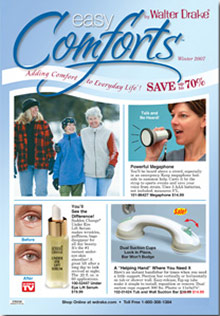 Easy Comforts
The Easy Comforts catalog brings you a healthy dose of living aids for maturing adults
Free Shipping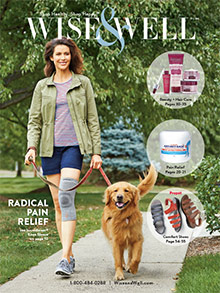 Wise and Well
Find health and beauty products in the Wise and Well catalog