Catalogs.com Departments

News & Articles

Bathroom Decor Accessories - Stacks and Stacks
Bathroom decor accessories for unique looks in your bathroom
Use bathroom decor accessories to turn your bathroom into a peaceful oasis.


Relax in comfort - Bathroom decor accessories like bath mats in bamboo, teak and oversize designs provide layers of comfort for bare feet. Mirrors come in round or square shapes, free-standing or wall styles.



Decorate in any style you want - Make your bathroom reflect your unique sense of design.... read more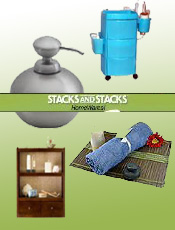 More About Bathroom Decor Accessories - Stacks and Stacks:
Other great Stacks and Stacks departments:
Accessory set themes include deep blue ocean, butterfly garden, bamboo, pine cone lodge, hearts and stars and much more. Linen sets are made to match to ensure a harmonious setting.


Useful and decorative - Your bathroom decor accessories don't have to be merely useful. Your wastebaskets, tissue boxes, soap dispensers and toothbrush holders can be just as pleasing to the eye as they are functional. Toilet bowl brushes and plungers perform double duty in sleek and stylish fashion. With designs ranging from rustic to elegant, your bathroom can reflect your personal style.
Stacks and Stacks provides a variety of beautiful bathroom decor accessories to enhance any bathroom.