Catalogs.com Departments

News & Articles

Elegant Bathroom Vanity - Home Decorators Collection
An elegant bathroom vanity adds sophistication and class
Turn any bathroom into a lovely, chic retreat with the addition of an elegant bathroom vanity. You choose the style, color and size that fits your home and your budget.


Whether your bathroom reflects modern, traditional, classic or eclectic style, you'll find an elegant bathroom vanity that fits right in with your home's unique decor. Single sink cabinets, double sink cabinets, four or eight drawer sink cabinets, half-moon sinks and corner sink cabinets are only a few of the many different kinds you'll find here.... read more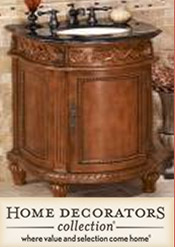 More About Elegant Bathroom Vanity - Home Decorators Collection:
Other great Home Decorators Collection - OLD departments:
The possibilities are nearly endless with such a large selection!


Home Decorators Collection has the color you need to perfectly complement your bathroom. Find an elegant bathroom vanity in white, honey, deep brown, cherry and black. With quality materials and fine details like marble, intricate scrolling or clean lines, you can makeover your bathroom just the way you want it. If your home's decor is important to you, you know that a beautiful bathroom only adds to it.
Find the elegant bathroom vanity you want and add to your home's beauty, value and great looks.